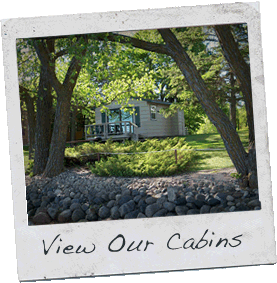 ~ Welcome to Big McDonald Resort ~
We are located on North Big McDonald Lane which is a dead end road with public access for our lake. The road is paved and provides easy access to the resort. The public landing, which is less than a 1/4 mile away, is
cement
and has a dock to help facilitate loading and unloading. There is plenty of room in front of our storage shed to store your trailer and excess vehicles. Parking is on the grass behind the cabins. The level grass grounds and sidewalks provide easy access to all facilities. Cabins 4, 6, and 7 are wheelchair accessible. All cabins are within 40 ft. of the water. Every two cabins have their own dock and you have plenty of mooring no matter what type or size boat you have.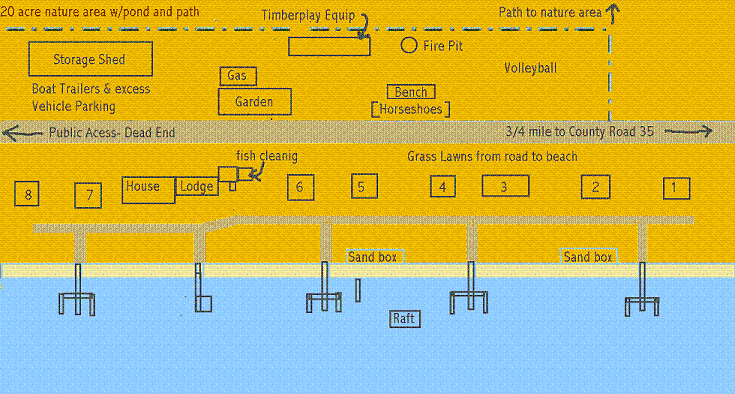 Resort Policies
Cottage check-in time is 3:00 PM OR LATER - Cottage check-out time NO LATER THAN 3:00 pm Friday
Cancellations: deposit is refunded if cottage re-rents. Less than 90 days notice - customer is financially responsible for the entire number of days reserved if cabin is not filled by you/us. No refunds for early departure/late arrival. We do keep a waiting list in case of a cancellation, however, people will only wait so long until they book elsewhere.
COTTAGE BILL MUST BE SETTLED NO LATER THAN 7:00 PM FRIDAY EVENING.
No pets, tenting or camping
No fireworks allowed
Cottage is to be left in a clean condition and free of damage.
If furniture (including beds) is moved whatsoever, it must be replaced to original position prior to leaving
Registered guests/visitors are welcome. We do reserve the right to limit their number if overcrowding is observed. Your guest(s) MUST be checked in and pre-paid at the office.
Boat trailers and vehicles need to be parked in designated area (by large storage building). They are not to be parked next to cabin. Please check with office at arrival for parking details.
A dock space fee will be charged for all private boats . We will work with you in their placement depending on size, etc. We assume no liability or responsibility for private boats.
No lifeguard on duty. Swim at your own risk.
All cottages are non smoking.
Additional fees will be applied in the event of breach of policies.