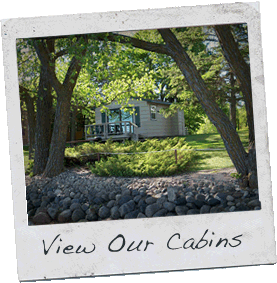 ~ Cottages and Facilities ~
Our 8 modern cottages provide a beautiful lakeside view of Big McDonald Lake. They are all located on level ground and are surrounded by well kept grass yards, shade trees, sidewalks, lighted docks for each cottage, lawn chairs, picnic tables, barbecues, playground and a clean, sandy swimming area for your pleasure.
Each newly remodeled cottage has a beautiful view of Big McDonald Lake from patio sliders with decks. Lake access is only a few steps away from your deck. Cottage interior walls are knotty pine or bass wood. All cottages have carpet in the bedroom(s). Living Rooms have carpet or wood style floors. Kitchen and bathroom areas have vinyl or wood flooring.
Each cottage is equipped with all modern conveniences including a cable television. All are furnished with microwave oven, toaster, drip coffeemaker, eating and cooking items. Bed linens and blankets are provided. For extra people, each cottage has a hide-a-bed couch. The only items you need to bring are your kitchen and bath linens.
Comprehensive Resort Facilities
Nearby is our knotty pine lodge with a TV, VCR/DVD, Nintendo Wii, movies, games, a lending library and a wood stove for enjoyment during the cool periods. Plenty of room for people to gather. Resort office, area information, convenience groceries, candy, pop, pizza and ice cream are also located here. Courtesy phone and wireless internet are also available.